Eve Room air-conditioning and air quality monitor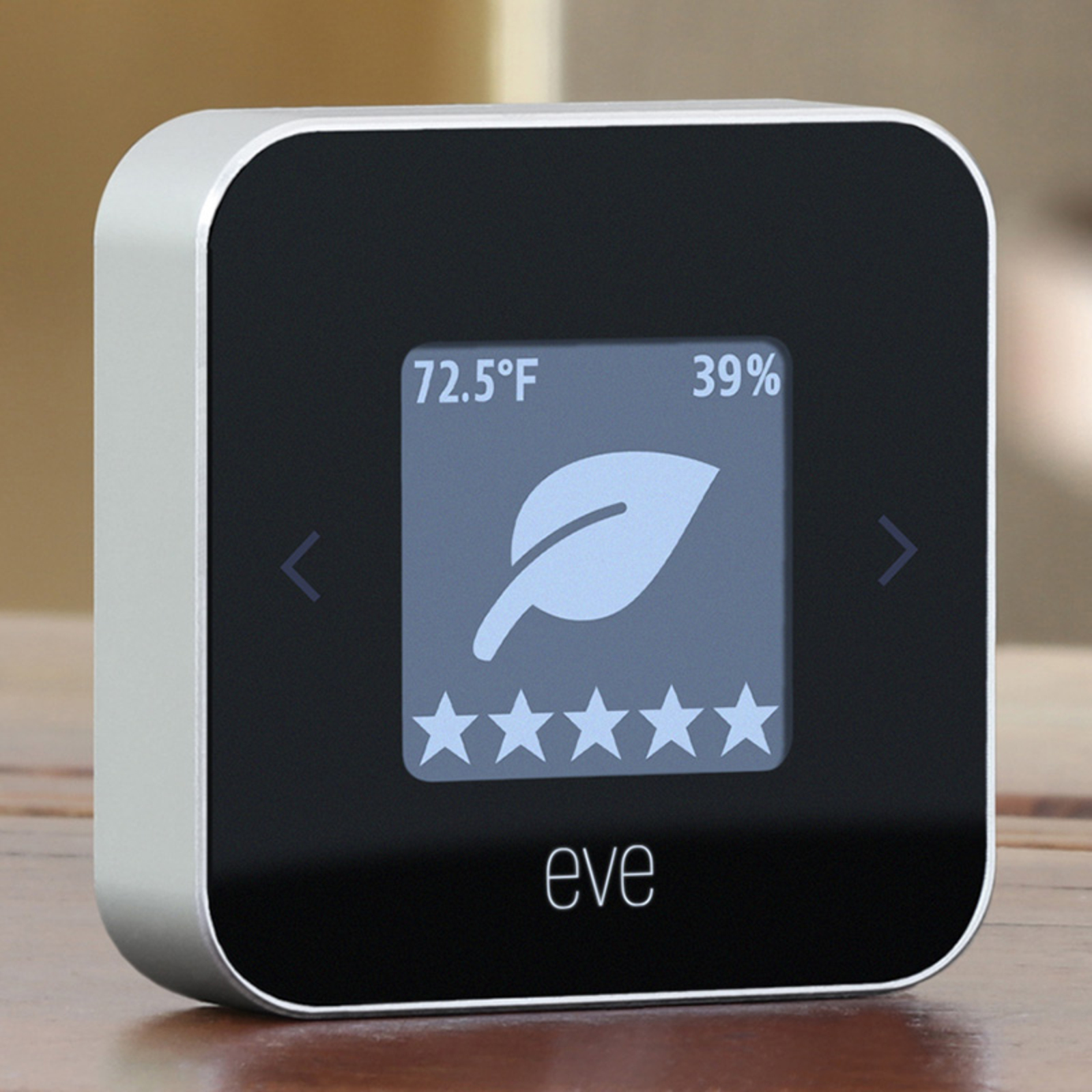 Incl. 23% tax
/
Free delivery within the Republic of Ireland on orders over €99
Delivery time:
3-5 working days
Free delivery
Item in stock
60 days  free returns
Certified shop
Price match guarantee
Product Description
Item No.: 2029011
Eve Room air-conditioning and air quality monitor
For a perfect room climate - Eve Room

The Eve Room, an app-controllable monitor, can reliably measure and manage the air quality, room temperature, and humidity in any living area. The small wireless sensor can be placed anywhere and clearly displays the values thanks to the high-contrast E-Ink display. Conveniently using your fingertip you can change between the individual values on the touch screen of the display.

All values are transmitted via Bluetooth to the iPhone and the corresponding app. This means that the data can be tracked at any time, retrieved in statistics, and even used for home automation when integrated into the Apple HomeKit Smart Home System. It is then possible to set up rules which automatically switch on a networked air humidifier when the humidity in the room falls until the desired level is reached. The information about the individual values can also be retrieved using Siri via a language command.

Features / compatibility:

- Controllable with the Eve app or home app from the Apple HomeKit with the current iOS version

- For automation and remote access, an Apple TV or an iPad configured as a control centre with the latest iOS version is required

Technical data:

- Environmental conditions: 0 °C to 50 °C temperature, 5 % to 95 % humidity

- Accuracy of measurements: ± 0,3 °C, ± 3 % humidity

- Battery run time approximately 6 weeks, rechargeable with USB cable (included)

- Display: E Ink, 1.54 inches, 200 x 200 pixels, 183 dpi

Please note: only compatible with Apple devices, cannot be used with Android


Technical Specifications
| | |
| --- | --- |
| Manufacturer | EVE |
| Material | aluminium, E-Ink display |
| Colour | aluminium, black |
| Width (in cm) | 5.4 |
| Height (in cm) | 5.4 |
| Item no. | 2029011 |
| Delivery contents | incl. USB charging cable |
| Special features | only compatible with Apple products |
| Depth (in cm) | 1.5 |
| Virtual Assistants | Apple HomeKit |
| Smart Home Systems | Apple HomeKit |
| Apps | Apple iOS App |
Payment Methods
Do you need advice?
We're happy to help Monday to Friday 8.00 am - 5.00 pm