Eve Aqua smart home water control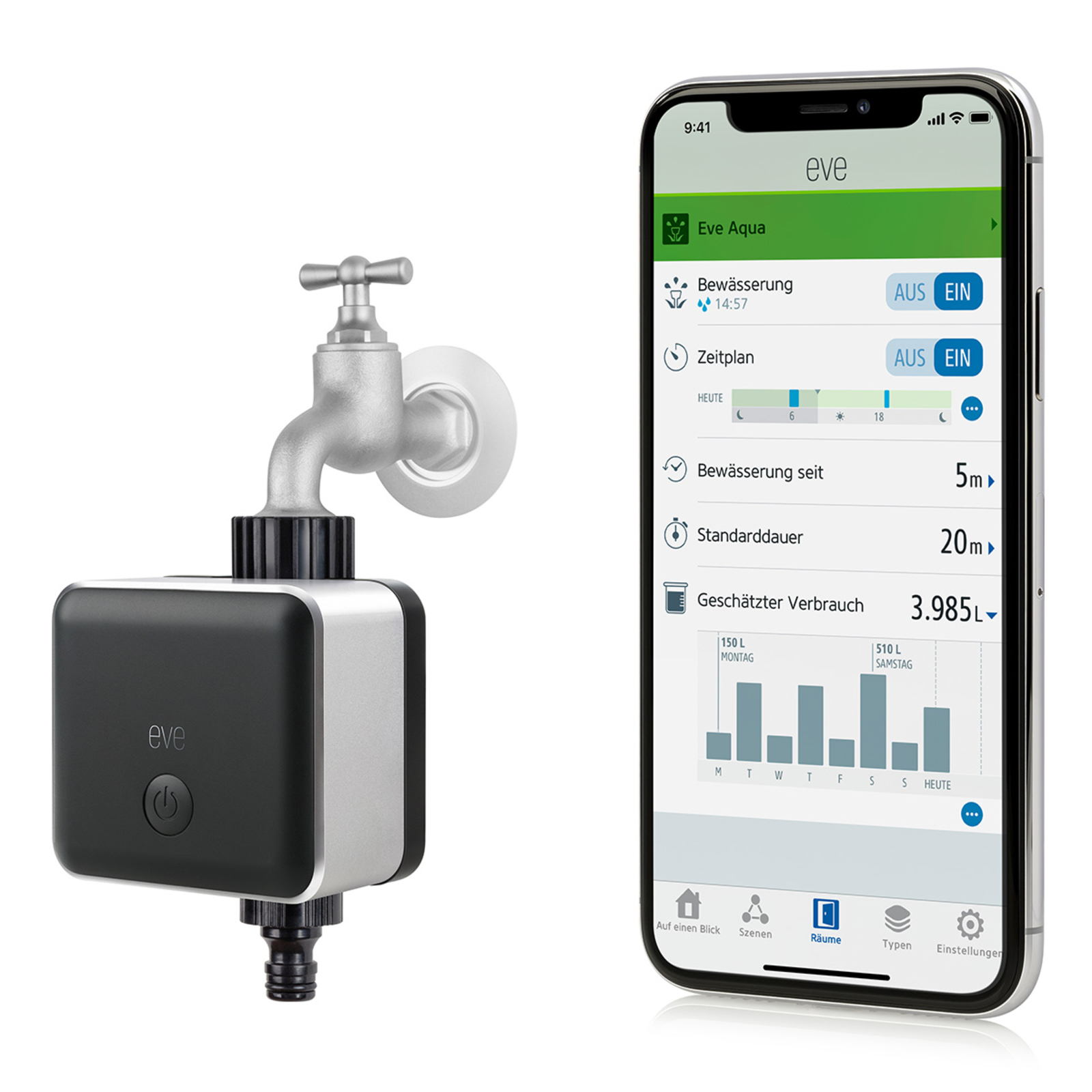 Incl. 23% tax
/
Free delivery within the Republic of Ireland on orders over €99
Delivery time:
3-5 working days
Free delivery
Item in stock
60 days  free returns
Certified shop
Price match guarantee
Product Description
Item No.: 2029024
Eve Aqua smart home water control
Eve Aqua app-controllable, outdoor water control system

The practical Eve Aqua water control system transforms outdoor water taps into a modern watering system. Simply install between the tap and hose, and Eve Aqua regulates the water supply according to pre-set schedules. Aqua communicates via Bluetooth with your iPhone or iPad. The free Eve app allows you to program individual watering times. Once successfully set up, you no longer need to connect to the iPhone, the watering times are started automatically. For manual control, Eve Aqua also has a button directly on the device. The documentation of the water consumption is very practical and can be found in the app at any time. The water control system can also be controlled via voice with Siri.

However, remote control of the facility and the use of scenes is only possible if Eve Aqua is integrated into an existing Apple HomeKit and use with a HomePod or Apple TV is guaranteed.

Features / compatibility:

- Controllable with the Eve app or home app from the Apple HomeKit with the current iOS version

- For automation and remote access, an Apple TV or an iPad configured as a control centre with the latest iOS version is required

Technical data:

- Threads:26.5 mm

- Pressure: min. 1 bar/max. 5 bar

- Wireless connection: Bluetooth Low Energy

- Water-resistant (IPX4) and UV-resistant

Please note: only compatible with Apple devices, cannot be used with Android

Technical Specifications
| | |
| --- | --- |
| Manufacturer | EVE |
| Material | plastic |
| Colour | silver grey, black |
| Width (in cm) | 9.4 |
| Height (in cm) | 8 |
| Item no. | 2029024 |
| Delivery contents | incl. 2 x AA batteries |
| Special features | only compatible with Apple products |
| Depth (in cm) | 12.3 |
| Battery-powered | |
| Virtual Assistants | Apple HomeKit |
| Smart Home Systems | Apple HomeKit |
| Apps | Apple iOS App |
Payment Methods
Do you need advice?
We're happy to help Monday to Friday 8.00 am - 5.00 pm