Rademacher DuoFern room thermostat 2, white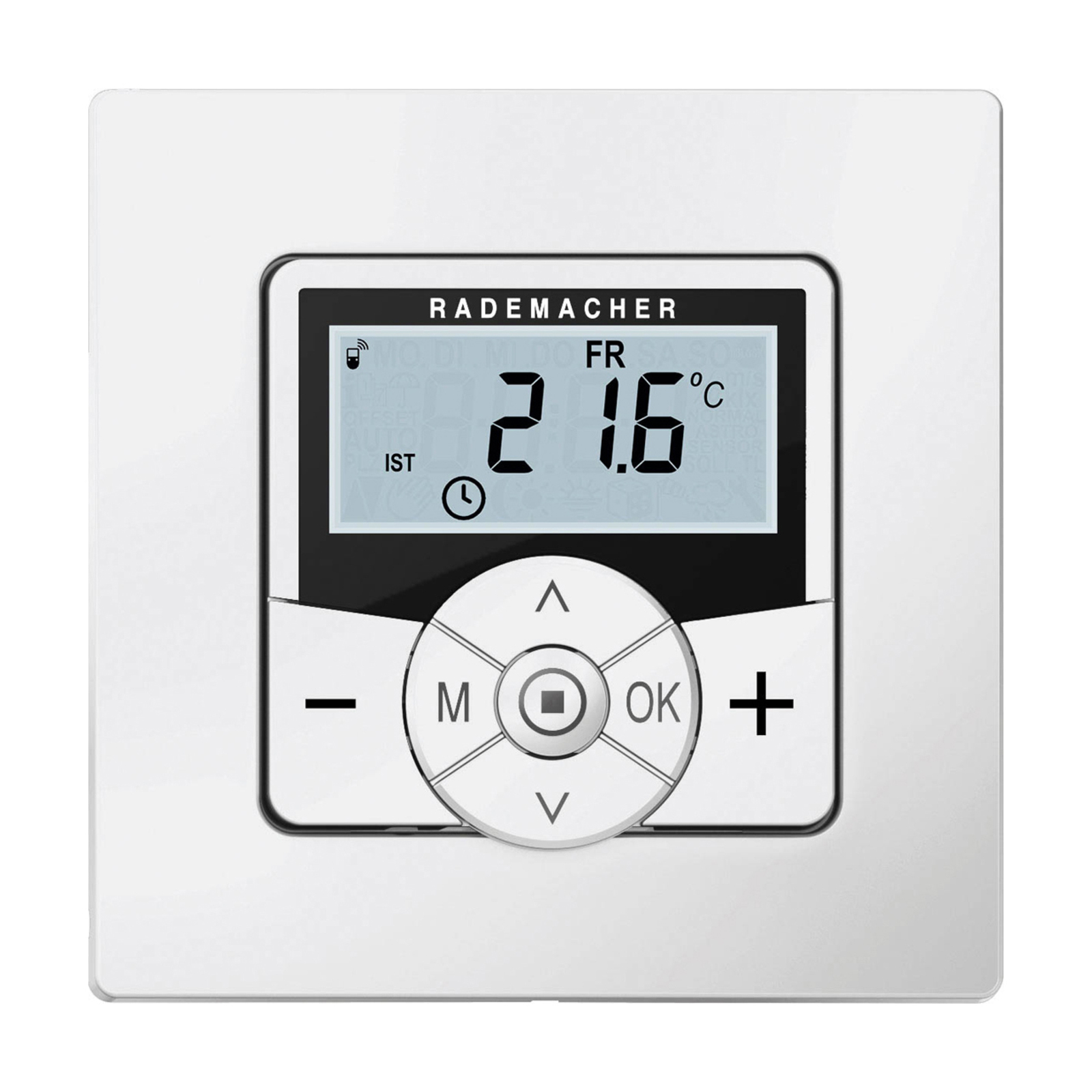 Incl. 23% tax
/
Free delivery within the Republic of Ireland on orders over €99
Delivery time:
3-5 working days
Free delivery
Item in stock
60 days  free returns
Certified shop
Price match guarantee
Product Description
Item No.: 8038042
Rademacher DuoFern room thermostat 2, white
DuoFern radio room thermostat for individual room control with floor heating systems and electric heaters

This smart home wall thermostat with a DuoFern radio interface can be used to integrate a conventional underfloor heating system or electric heating system into the smart HomePilot® control system so that it can be controlled via an app. Up to 20 DuoFern devices can be connected to one another here. Up to six switching times, four separately programmable target temperatures and daily and weekly programmes are available, allowing you to save energy costs with a needs-oriented heating control. Integration into the HomePilot® system allows you to connect the heating system to other elements of the system, for example to run out the awning in front of the conservatory when the desired temperature is achieved.

The DuoFern radio room thermostat has an illuminated display and a key lock. It switches automatically between summer and winter time and includes a set-up wizard.

Features / compatibility:

- Can be integrated into the HomePilot® system

- Can be controlled via the free HomePilot® Smart Home app for iOS and Android

- Relay contact for the direct connection of valves (potential-free relay contacts even for low-voltage valves) - up to 20 DuoFern devices

- With max. 2300 W switching capacity, also suitable for electric heating systems

- Direct radio connection between the room thermostat and a DuoFern actuator (connected to one or more valves) allows for individual room control

- Additional connection for external sensors

- Valve protection, frost protection and cooling function

Technical data:

- Range outdoors: around 100 m

- Range in the building: around 30 m (depending on the building fabric)

- Transmission power: max. 10 mW

- Ambient temperature during use: -25 to +55 °C

- The HomePilot® central control unit is required for smart control


Technical Specifications
| | |
| --- | --- |
| Manufacturer | RADEMACHER |
| Material | plastic |
| Colour | white |
| Width (in cm) | 5 |
| Height (in cm) | 5 |
| Supply voltage in volts | 230 |
| IP code | IP30 |
| Protection class | II |
| Item no. | 8038042 |
| Operating voltage in volts | 230 |
| Depth (in cm) | 1.2 |
| Mounting depth (in cm) | 3.2 |
| Virtual Assistants | Google Assistant, Amazon Alexa |
| Apps | iOS App and Android App |
Payment Methods
Do you need advice?
We're happy to help Monday to Friday 8.00 am - 5.00 pm