Wood ceiling light Lara wood with LED 43 cm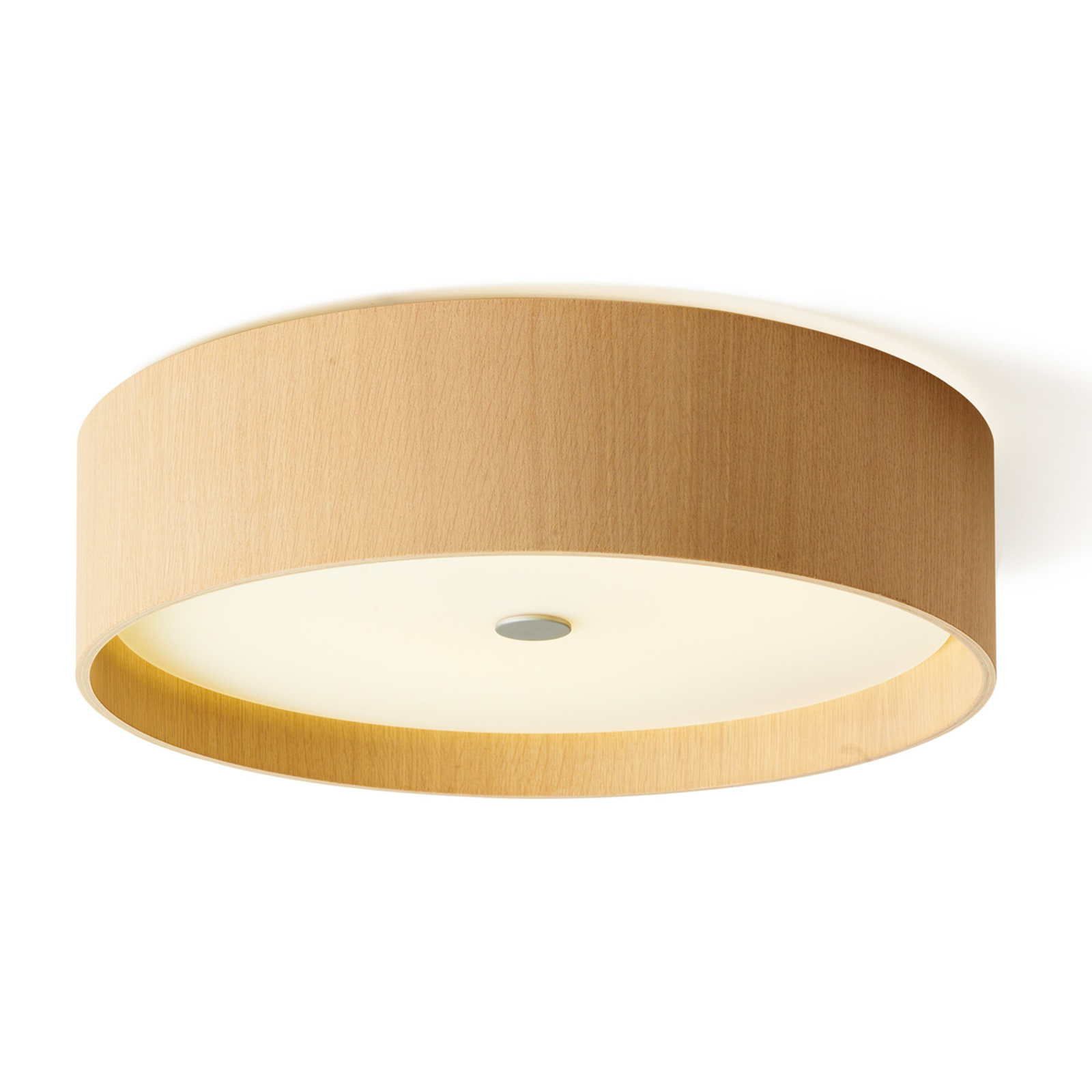 Incl. 23% tax
/
Free delivery within the Republic of Ireland on orders over €99
Free delivery
60 days  free returns
Certified shop
Price match guarantee
Product Description
Item No.: 2600504
Wood ceiling light Lara wood with LED 43 cm
Flawless LED ceiling light Lara wood made of white oak wood

The ring-shaped LED ceiling light Lara wood cover is made of high-quality white oak. The designers have succeeded in achieving an interesting finesse with a gap between the light and the ceiling no greater than the width of a thumb, which makes Lara wood appear as though it is floating beneath the ceiling and also leaves a glimmer of light that can be sensed. The elegant wood grain on its interior, in combination with the low-hanging diffuser attached to the ceiling, behind which the bright LED module is located, ensures that the light is scattered in the best way possible. The simple form of the ceiling light means it can be used not only in project areas, but also in office and private environments.

- dimmable with leading or trailing edge dimmer

During production, the manufacturer ensures that the natural beauty of the wood isn't diminished in any way, this is the reason why the use of varnish is avoided and primarily plant oil and natural wax are used to treat the surface.

Ecological sustainability with hand-crafted products from Germany

DOMUS excels thanks to its extensive experience as a lighting manufacturer - the company was founded in 1966. Since then, it has not changed its philosophy i.e. creating light for living spaces and has virtually perfected its claim to high quality and sustainable manufacturing. Even though they use excellent technical equipment, DOMUS still considers itself a true manufacturer, in that they employ skilled people with high levels of craftsmanship to manufacture high quality lighting products by hand. Designers, wood experts, engineers and light planners work together to create lights that have a timeless effect and are technologically durable and leave customers feeling completely satisfied. The aspiration of ecological responsibility employed by DOMUS also reflects in the fact that primarily renewable, raw materials are used and unnecessary transport routes are avoided by manufacturing in Germany.


Technical Specifications
Domus
| | |
| --- | --- |
| Manufacturer | DOMUS |
| Material | white oak, frosted perspex |
| Colour | white oak, opal |
| Luminous colour | warm white (2,700 K) |
| Light bulb | LED - 25 W in total |
| Light bulb included | |
| Dimmable | |
| Dimmer | Not included |
| Height (in cm) | 12.5 |
| Diameter (in cm) | 43 |
| Light output | 3100 |
| Total luminous flux (in lm) | 3100 |
| Supply voltage in volts | 230 |
| IP code | IP20 |
| Protection class | I |
| Energy efficiency class | A+ |
| Luminous colour (pick list) | Warm white |
| Item no. | 2600504 |
| LED permanently installed | |
| Delivery contents | includes electronic ballast |
Payment Methods
Do you need advice?
We're happy to help Monday to Friday 8.00 am - 5.00 pm