Square LED ceiling light Kyoto 13, beech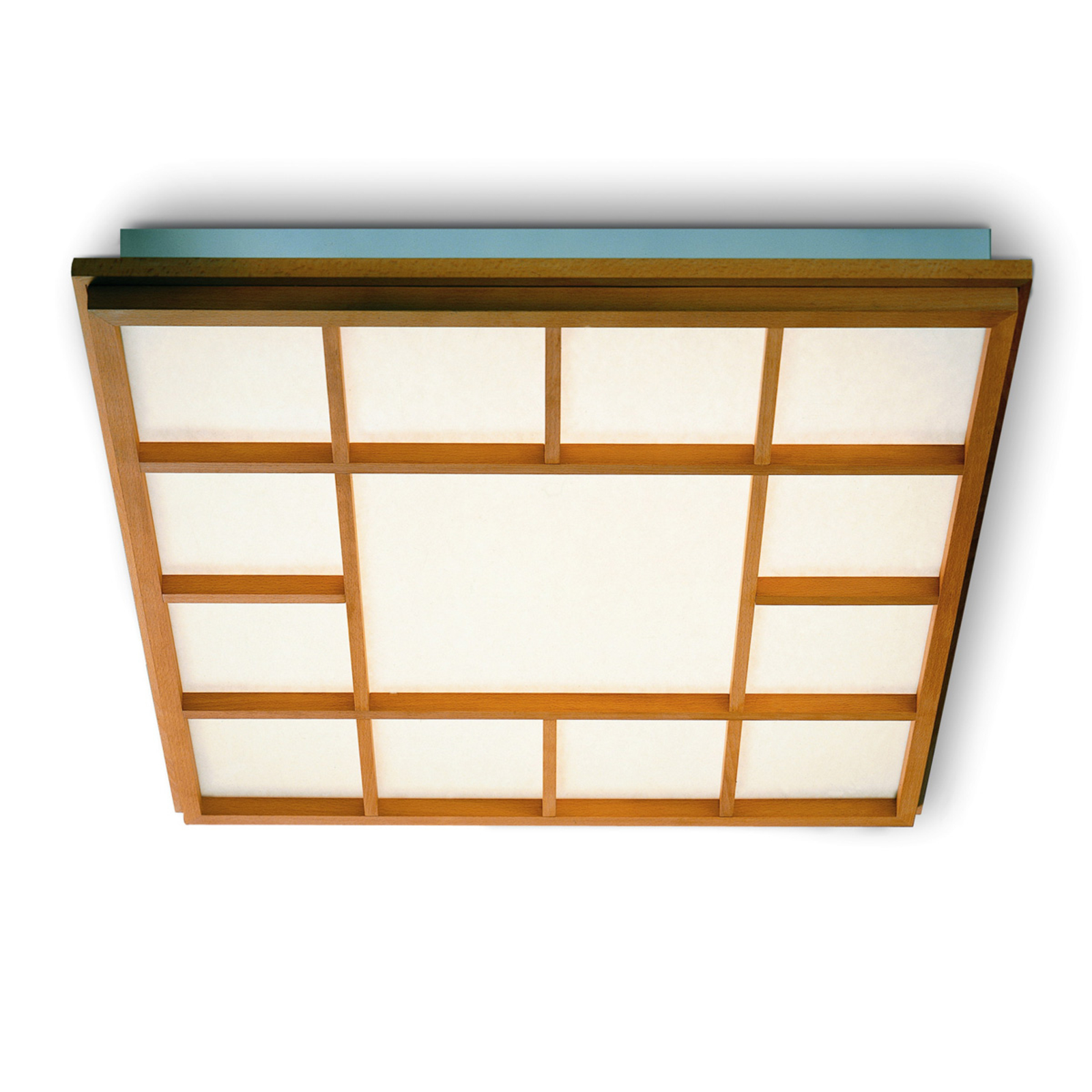 Incl. 23% tax
/
Free delivery within the Republic of Ireland on orders over €99
Delivery time:
3-5 working days
Free delivery
Item in stock
60 days  free returns
Certified shop
Price match guarantee
Product Description
Item No.: 2600511
Square LED ceiling light Kyoto 13, beech
Linear LED ceiling light Kyoto 13 in Japanese style

Fans of Far Eastern culture will love this very special LED ceiling light named Kyoto 13. It is evident at first glance that this light has been inspired by Japanese interior design. The result is an extraordinary light source, which will definitely be eye-catching in any room, regardless of whether it is furnished in an Asian or modern style. Thanks to its simple design, Kyoto 13 can also be combined with many other styles. If this clash of styles is successful, the result can be very relaxing and aesthetically pleasing. If you want to experiment even more, Kyoto 13 can also be used as a wall light. The light stands out when it is fitted in pairs, for example, either side of a doorway. This symmetry is effective in combination with the straight lines of the light, creating both a neat and relaxing aesthetic. The interior style of the room should rather be minimalistic and focused on the essentials, for this light to work effectively. Various floral elements (for example on photos or the wallpaper) create a good balance and are perfectly suitable to capture the Japanese themes over and over again.

When examining the materials used to make it, it becomes clear that the ceiling light Kyoto 13 is an extremely high-quality product. The light consists of a beech wood frame that is covered with lunopal. It is a delicate and translucent natural material, which is being increasingly used in the production of the lampshades. Kyoto 13 is made by Domus. It means that anyone who buys this product that rest assured that the light has not only been hand-crafted, but also that it fulfils all the requirements need for sustainable production. This becomes clear when you realise that Domus uses almost exclusively renewable raw materials. Transportation and delivery routes are also intentionally kept short. All lights are made in Germany.


Technical Specifications
Domus
| | |
| --- | --- |
| Manufacturer | DOMUS |
| Material | beech, lunopal |
| Colour | beech, white |
| Luminous colour | warm white (3,000 K) |
| Light bulb | LED - 50 W in total |
| Light bulb included | |
| Dimmable | |
| Dimmer | Not included |
| Length (in cm) | 68 |
| Width (in cm) | 68 |
| Height (in cm) | 8 |
| Other measurements | cut-out dimensions - length 62.5 cm, width 62.5 cm |
| Light output | 6000 |
| Total luminous flux (in lm) | 6000 |
| Supply voltage in volts | 230 |
| IP code | IP20 |
| Protection class | I |
| Energy efficiency class | A+ |
| LED permanently installed | |
| Luminous colour (pick list) | Warm white |
| Delivery contents | includes electronic ballast |
| Item no. | 2600511 |
Payment Methods
Do you need advice?
We're happy to help Monday to Friday 8.00 am - 5.00 pm