Rademacher DuoFern universal actuator 1 x 3,600W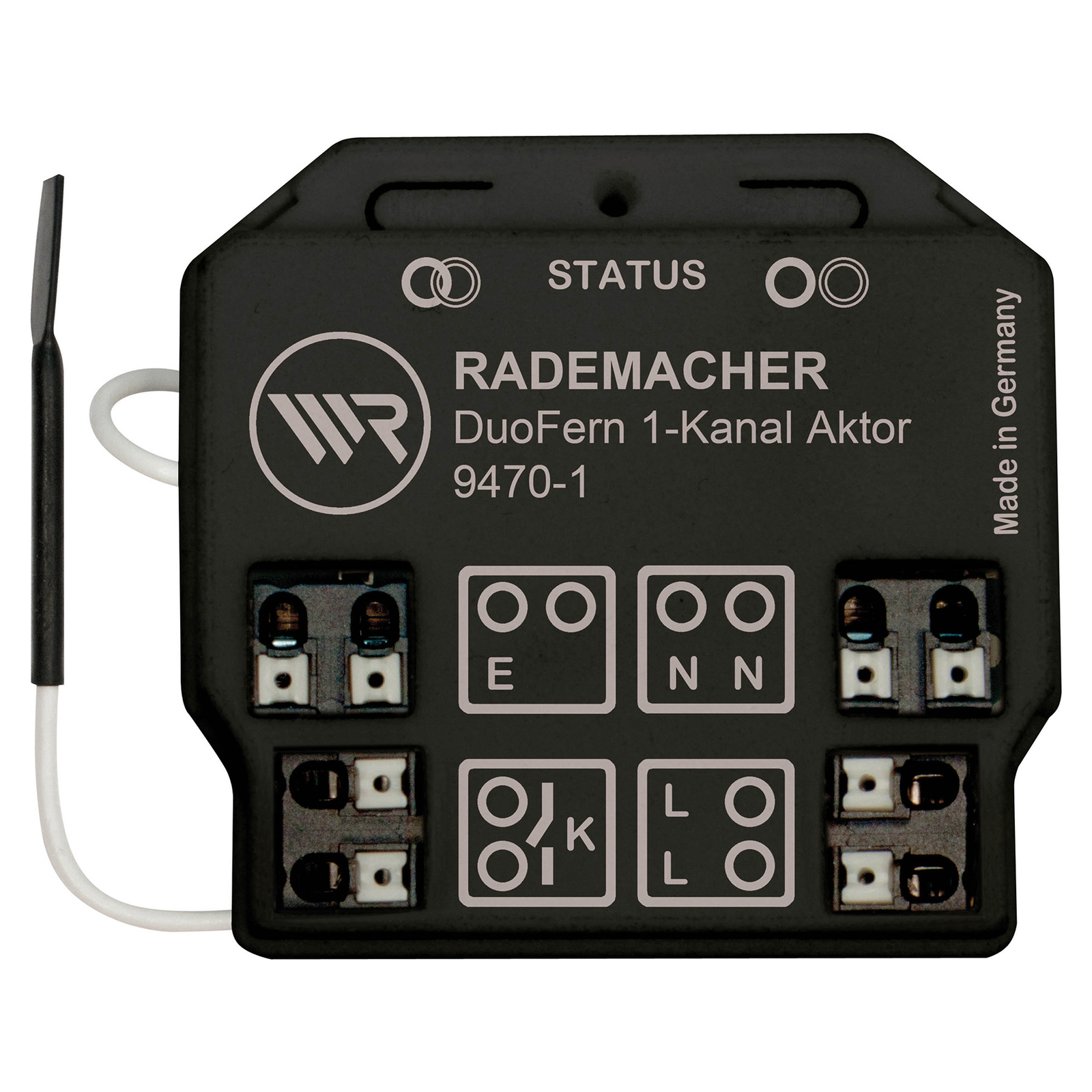 Incl. 23% tax
/
Free delivery within the Republic of Ireland on orders over €99
Delivery time:
10-14 working days
60 days  free returns
Certified shop
Price match guarantee
Product Description
Item No.: 8038045
Rademacher DuoFern universal actuator 1 x 3,600W
Wireless DuoFern universal actuator, one-channel, for a maximum of 3,600 W

This DuoFern switch actuator is suitable for light and electrical consumers (also powered via a power point) with a high switching capacity. It serves to control the connected conventional consumers via radio waves. It is installed in standard flush-mounted boxes. It can be used to turn on and control consumers with a power consumption of up to 3,600 W. You still have the option of manual control, as a switch can be connected.

The possibilities for radio control include control via DuoFern transmitters or connection to the HomePilot® central control unit. This allows lighting and electrical devices to be integrated into the home automation system and be controlled via an app, even when you are out and about if HomePilot® is connected to the Internet, or by voice command after integration into Google Home or Amazon Alexa. Another highlight of the universal actuator is the possibility of setting a staircase function with a switch-off warning, which can be programmed via HomePilot®. The actuator switches off the controlled devices again after a predefined staircase time and provides advance notice of this. 

 Functions / compatibility:

- Control via HomePilot® or via the free HomePilot app

- Voice control via Google Assistant and Amazon Alexa possible

- Number of directly connected DuoFern participants: max. 20

Technical information:

- Transmission frequency: 434.5 MHz

- External inputs: one

- Switching capacity: max. 16 A / 3,600 W ohmic load, max. 8 A / 1,800 W inductive load

- Range: outdoors around 100 m, in the building around 30 m (depending on the building fabric)

- Ambient temperature during use: -20 °C to + 55 °C

HomePilot® is necessary for smart control.


Technical Specifications
| | |
| --- | --- |
| Manufacturer | RADEMACHER |
| Colour | black |
| Length (in cm) | 4.9 |
| Width (in cm) | 4.6 |
| Height (in cm) | 2 |
| Supply voltage in volts | 230 |
| Item no. | 8038045 |
| Operating voltage in volts | 230 |
| Virtual Assistants | Google Assistant, Amazon Alexa |
| Apps | iOS App and Android App |
Payment Methods
Do you need advice?
We're happy to help Monday to Friday 8.00 am - 5.00 pm