Nimbus Force One LED floor lamp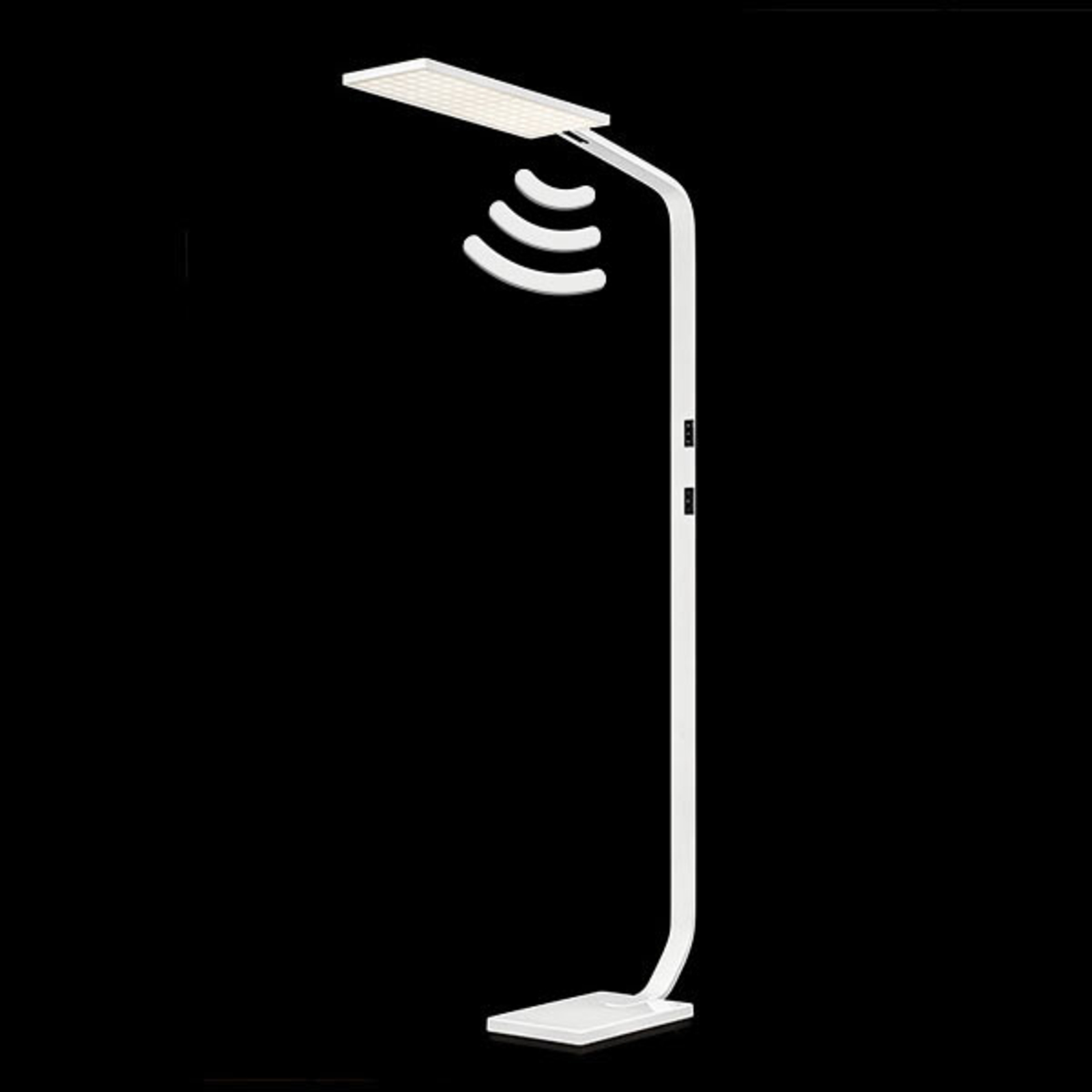 Incl. 23% tax
/
Free delivery within the Republic of Ireland on orders over €99
Delivery time:
3-5 working days
Free delivery
60 days  free returns
Certified shop
Price match guarantee
Product Description
Item No.: 7018001
Nimbus Force One LED floor lamp
An all-rounder in the office - modern and versatile LED floor lamp Force One The LED office floor lamp Force One is characterised by a simple and streamlined design combined with state-of-the-art technology. At first glance, the innovative functions of Force One are not as obvious as its delicate and well thought out design. The head, which has a very flat design with a height of 20 millimetres, towers far above the work surface. This makes even and extensive lighting possible. Thanks to the so-called soft light diffusers, which are made of translucent glass, in the top and bottom of the head, the light can shine directly and indirectly. These two options can be set separately from one another. Depending on the space and lighting conditions, the amount of indirect light that is cast onto the ceiling is sufficient for general lighting for the office. The entire operating technology of the LED office floor lamp Force One is located in its base. In spite of this fact, it is designed in such a way that it does not intrude into the walking space in an office and can slide under a table. Four adjustable feet can be used to effortlessly level out unevennesses in the floor. The structure of Force One is also extremely simple in spite of its very complex technology. In the light's frame, there are a total of two separate control units. These can be used to control the indirect light, the presence and ambient light detection and the brightness of the warm white light. If the presence sensor does not detect any movement within 60 seconds, the light will be set to a sleep mode. The daylight or ambient light sensor perceives the brightness of the surrounding area and constantly readjusts the light of Force One to obtain an optimum level of brightness. If necessary, the level of brightness can also be adjusted according to your personal preferences. Then the memory function ensures that the most recently set level of brightness is stored even after the light is turned off ready for the next use. Another feature is the possibility of integrating several Force One LED office floor lamps into a building management system. This allows lighting scenarios and lighting groups to form and enables you to use a central control unit to change the light according to the season and time of day, for example. In addition to a building management system, Force One lights can also "communicate" with their neighbours via the wireless technology. Thus, an intelligent lighting network can be controlled by an app for certain lighting groups.
Technical Specifications
| | |
| --- | --- |
| Manufacturer | NIMBUS |
| Designer | Rupert Kopp |
| Material | cast steel, aluminium, acryllic glass |
| Colour | very glossy white |
| Luminous colour | warm white (3,000 K) |
| Light bulb | LED - 58 W in total |
| Light bulb included | |
| Dimmable | |
| Dimmer | Included |
| Length (in cm) | 94.5 |
| Width (in cm) | 26.4 |
| Height (in cm) | 192 |
| Other measurements | base - height 5.8 cm, width 26.4 cm, depth 38.4 cm; lampshade depth 55 cm |
| Light output | 6246 |
| Total luminous flux (in lm) | 6246 |
| Supply voltage in volts | 230 |
| IP code | IP20 |
| Energy efficiency class | A++ |
| Luminous colour (pick list) | Warm white |
| Item no. | 7018001 |
| LED permanently installed | |
| Incl. motion detector | |
Payment Methods
Do you need advice?
We're happy to help Monday to Friday 8.00 am - 5.00 pm