Eve Weather smart home weather station, thread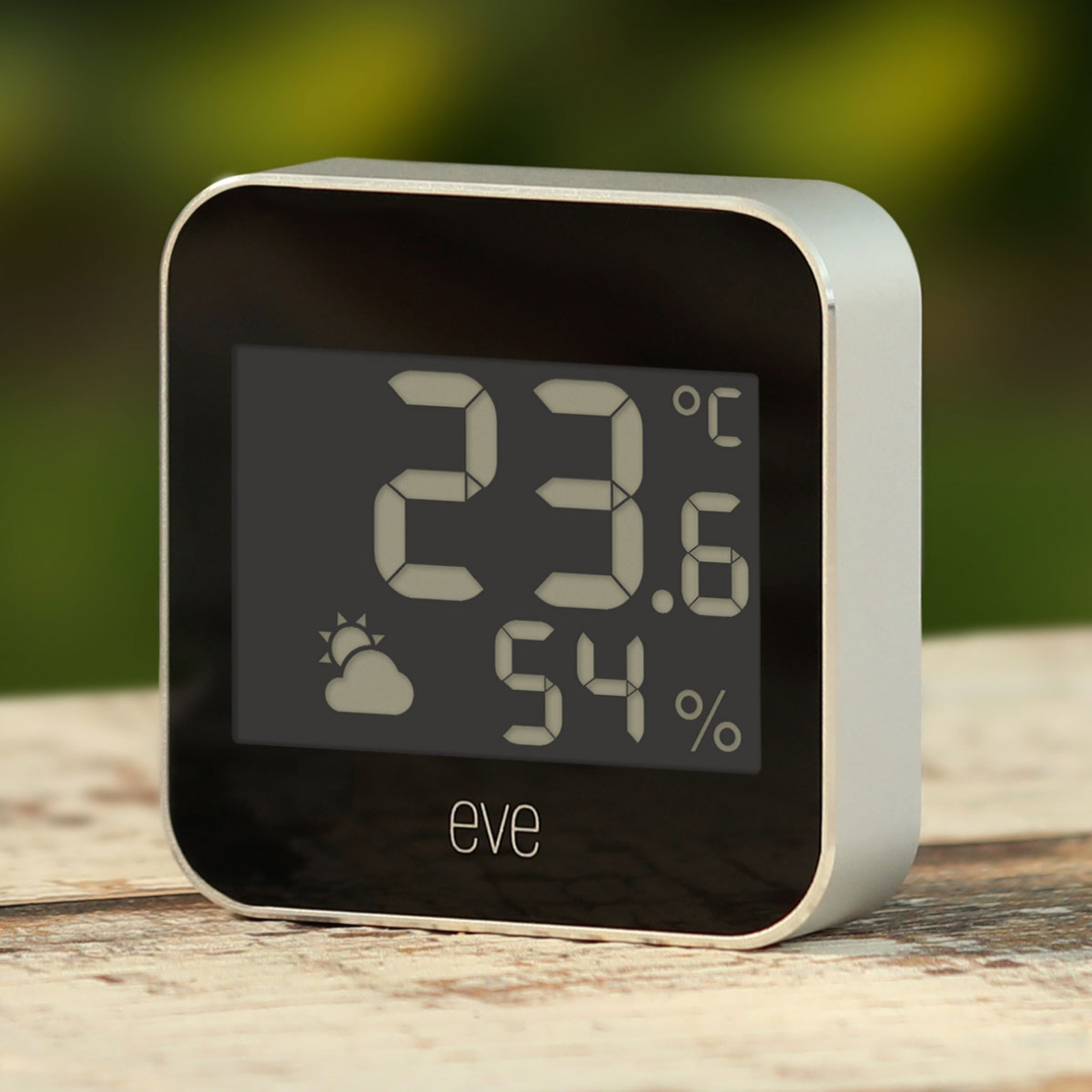 Incl. 23% tax
/
Free delivery within the Republic of Ireland on orders over €99
Delivery time:
3-5 working days
Item in stock
60 days  free returns
Certified shop
Price match guarantee
Product Description
Item No.: 2029025
Eve Weather smart home weather station, thread
The weather and its changes always firmly in view with the weather station Weather from Eve

Eve Weather is a reliable and compact weather station. It measures the outdoor temperature, humidity and air pressure very accurately and can predict weather changes 12 hours in advance. The current values can be read comfortably via a clearly visible display. The data is regularly sent to your own iPhone or iPad via Bluetooth wireless connection. There, a statistical evaluation takes place in the appropriate Eve app and the data is collected so that it can be viewed at all times.

Thus, the data can be used to precisely manage the conditions of a room and by integrating it into the Apple HomeKit smart home system, additional convenient functions can be used. The control via Siri is also possible and you can get information about the values directly.

In addition, the weather station can be set up easily and quickly and no bridge or gateway is required. Strict data protection is a top priority for Eve.

Equipped with the new thread technology (thread-capable hardware chip is already integrated), the transmissions work even faster - a mesh network is established, which enables fast and secure communication and also selects an alternative communication route in the event of device failure. No bridges are necessary any more.

Features/Compatibility:

- Controllable with the Eve app or Home app of the Apple HomeKit with current iOS version.

- For automation and remote access, an Apple TV (4th generation or newer), a HomePod or HomePod Mini is required as the control center.

- automatically integrates into its own thread network / supports Bluetooth and thread

- Thread needs the Home Pod Mini as border router and control center

Technical data:

- Ambient conditions: -18 °C to +55 °C temperature, 0-100 % humidity, 260-1,260 mbar air pressure.

- Measuring accuracy: ± 0.3°C, ± 3% humidity, ± 1 mbar

- Wireless connection: Bluetooth Low Energy

- Power supply: CR 2450 battery (included)

Note: only compatible with Apple devices, not usable with Android


Technical Specifications
| | |
| --- | --- |
| Manufacturer | EVE |
| Material | aluminium, plastic |
| Colour | aluminium, black |
| Width (in cm) | 5.4 |
| Height (in cm) | 5.4 |
| Item no. | 2029025 |
| Delivery contents | incl. CR 2450 battery (interchangeable) |
| Special features | only compatible with Apple products |
| Depth (in cm) | 1.6 |
| Battery-powered | |
| Virtual Assistants | Apple HomeKit |
| Smart Home Systems | Apple HomeKit |
| Apps | Apple iOS App |
Payment Methods
Do you need advice?
We're happy to help Monday to Friday 8.00 am - 5.00 pm