Ceiling fan Royal 103, brass, antique oak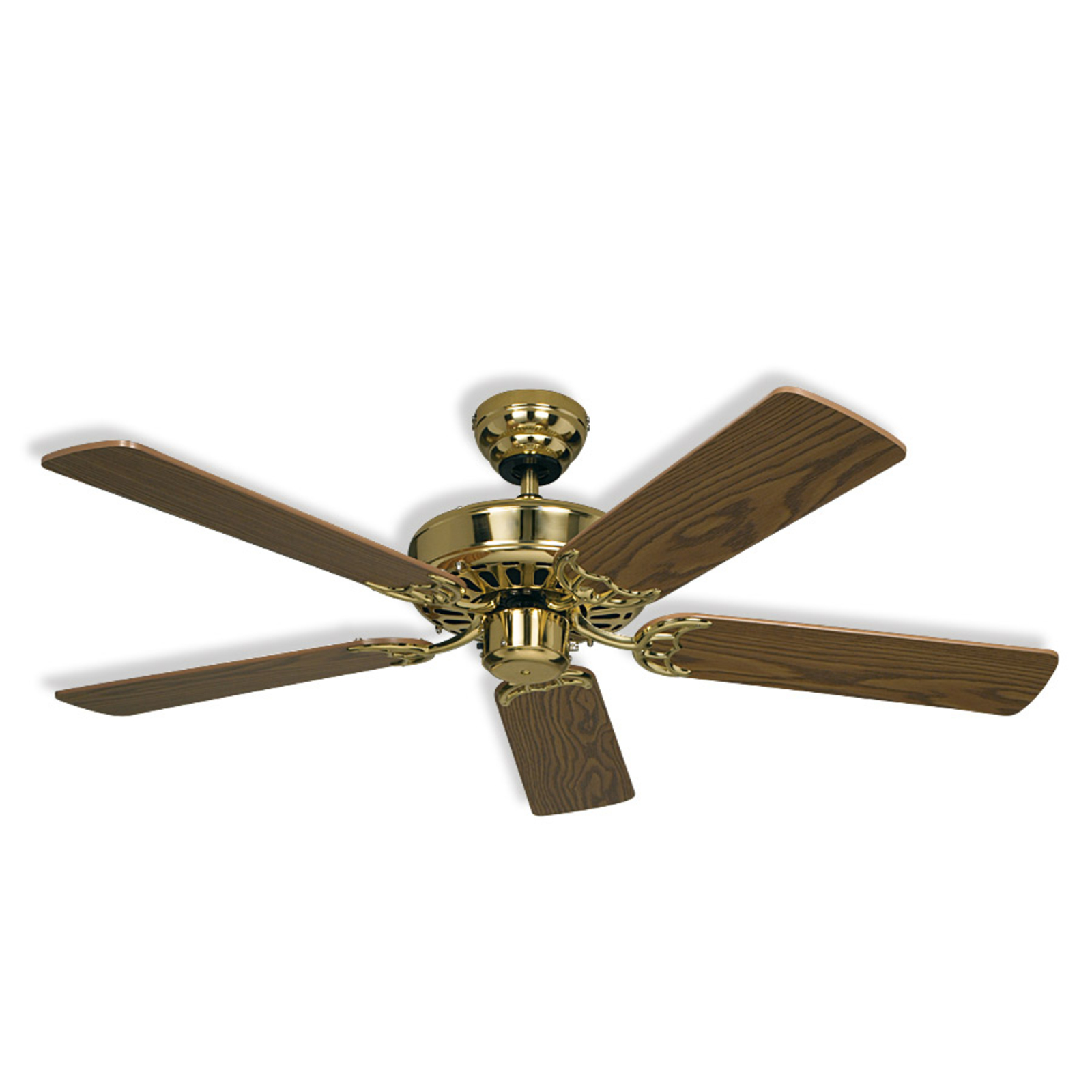 Incl. 23% tax
/
Free delivery within the Republic of Ireland on orders over €99
Delivery time:
3-5 working days
Free delivery
Item in stock
60 days  free returns
Certified shop
Price match guarantee
Product Description
Item No.: 2015053
Ceiling fan Royal 103, brass, antique oak
Elegant ceiling fan Royal 103 with attractive brass casing

The ceiling fan Royal 103 with an elegant design consists of a glossy metal casing with a polished finish and wooden blades in a rustic oak look. With a diameter of 103 cm, Royal 103 is perfectly suited for use in rooms with a size of up to 15 m². A shallow distance of 21 cm between the blades and the ceiling allows use with a low ceiling height. Royal 103 can be installed with two, four or five blades.

Functions

Royal 103 is conveniently operated using a three-level pull switch. For a suitable remote control, please see the accessories.

The integrated forward and reverse rotation function is regulated by a sliding switch. The opposite rotation directions mark the winter or summer mode. The summer mode achieves a cooling floor of air due to a suction effect; the winter mode provides heat through a circulation of air. Heating cost savings of up to 30% can be made by the winter mode.

Sloping ceilings are no problem for Royal 103. They should not exceed an incline of 38°. A ceiling rod can increase the distance between the ceiling and the wooden blades to 27 cm.

Technical data

Consumption: 8-48 watts

Speed: max. 194 rpm

Special features

Operates very quietly, and can therefore even be used in bedrooms.


Technical Specifications
| | |
| --- | --- |
| Manufacturer | CASAFAN |
| Material | metal, wood |
| Colour | polished brass, antique oak |
| Diameter (in cm) | 103 |
| Other measurements | ceiling canopy diameter 13 cm, distance from ceiling with ceiling rod 27 cm, without ceiling rod 21 cm |
| Supply voltage in volts | 230 |
| Item no. | 2015053 |
| Max. roof slope | 38° |
| With forward/reverse mode | |
| Room size | Up to 15 m² |
Payment Methods
Do you need advice?
We're happy to help Monday to Friday 8.00 am - 5.00 pm