Beech wood ceiling light Kyoto 9 with LED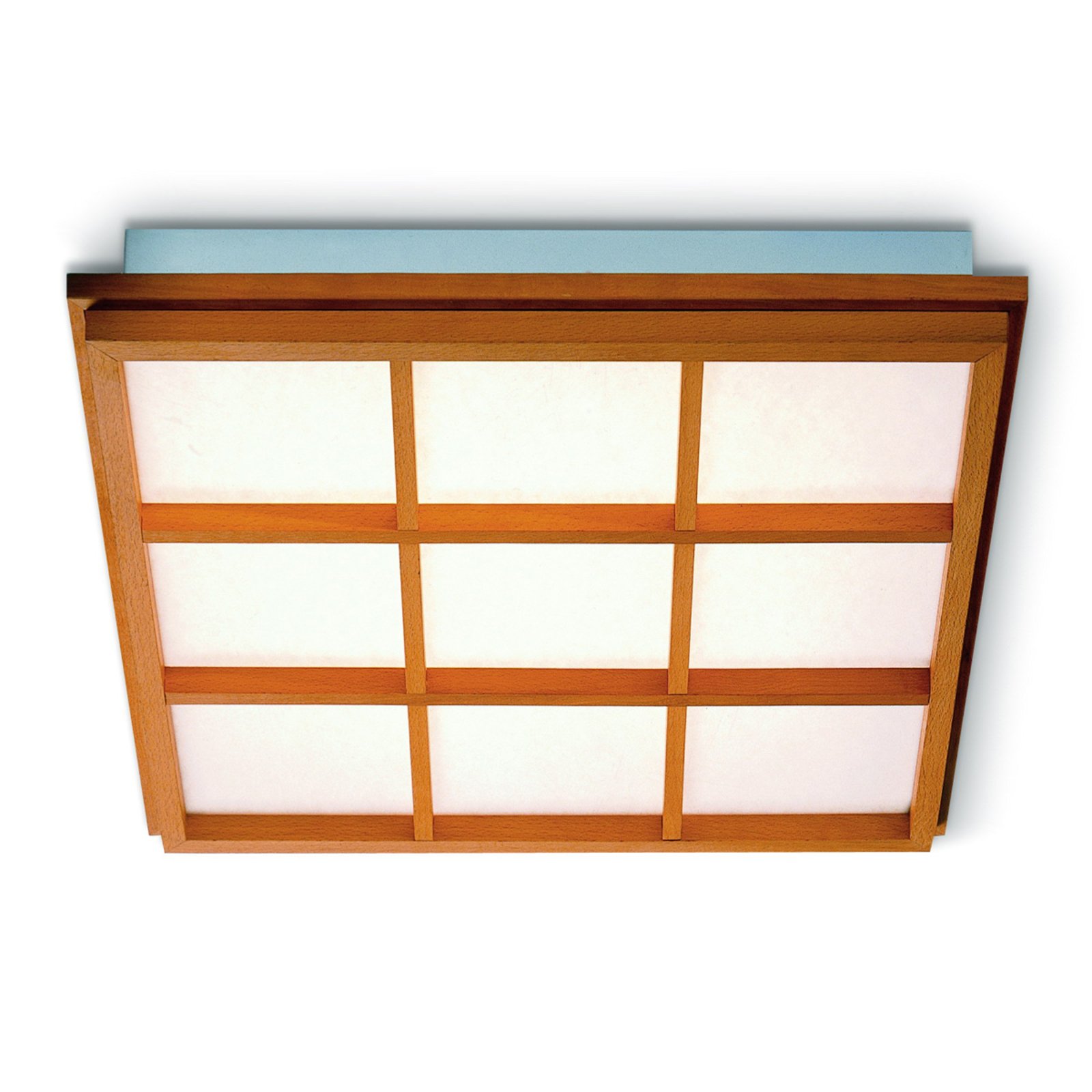 Incl. 23% tax
/
Free delivery within the Republic of Ireland on orders over €99
Delivery time:
3-5 working days
Free delivery
Item in stock
60 days  free returns
Certified shop
Price match guarantee
Product Description
Item No.: 2600513
Beech wood ceiling light Kyoto 9 with LED
The versatile LED ceiling light Kyoto 9 exudes Japanese atmospherics.

Once again, it is astonishing to see the effect that simple shapes and designs can create. Strictly speaking, the LED ceiling light Kyoto 9 is just a frame with cross struts, behind which the lunopal has been stretched. Obviously, this simple description does not justify the extraordinary effect of this light in any way. The combination of wood and white fabric creates a unique look that automatically evokes the Far Eastern imagery. Kyoto 9 will truly speak to all fans of Japan. The great thing about this light, however, is that it is not just for those who love Asia. Thanks to its simple design, Kyoto 9 can be integrated to a multitude of interior styles. For example, the ceiling light is excellently suited to breathing life into a plain and very modern interior that is dominated by lots of white and chrome. Moreover, Kyoto 9 combines brilliantly well with different floral or detailed objects. The combination of the flourishes and straight lines gives off a completely new and extremely exciting style. The range of possible uses for Kyoto 9 is virtually endless. If you are creative, you can really let loose and create something very special.

The creator of this inspiring light is Domus. The light manufacturer has really made its mark by using almost exclusively renewable raw materials for its designer products. Time and time again, the end result is a very special light that stands out from the crowd and manages to attract the viewer's gaze in a very unique manner. This is not too surprising, given that the natural materials used like linen, wood and felt are well known for triggering particularly warm and pleasant feelings in people. Therefore, surely it makes sense to use these materials to make lights too?


Technical Specifications
Domus
| | |
| --- | --- |
| Manufacturer | DOMUS |
| Material | beech, lunopal |
| Colour | beech, white |
| Luminous colour | warm white (3,000 K) |
| Light bulb | LED - 34 W in total |
| Light bulb included | |
| Dimmable | |
| Dimmer | Not included |
| Length (in cm) | 52 |
| Width (in cm) | 52 |
| Height (in cm) | 8 |
| Other measurements | cut-out dimensions - length 46.5 cm, width 46.5 cm |
| Light output | 4000 |
| Total luminous flux (in lm) | 4000 |
| Supply voltage in volts | 230 |
| IP code | IP20 |
| Protection class | I |
| Energy efficiency class | A+ |
| LED permanently installed | |
| Luminous colour (pick list) | Warm white |
| Delivery contents | includes electronic ballast |
| Item no. | 2600513 |
Payment Methods
Do you need advice?
We're happy to help Monday to Friday 8.00 am - 5.00 pm