Trade and frequent orders? Larger projects?
Contact to trade team
Product Description
LED recessed wall light Fuse USB with adjustable light and USB port

This LED recessed wall light Fuse USB is the ideal replacement for the bedside lamp. Mounted on the wall above or to the side of the bed, it provides a targeted adjustable light for evening browsing, which is characterised by particularly good colour rendering with a colour rendering index of Ra 90, and also offers a charging option for the mobile phone thanks to the integrated USB port. The luminaire head can be swivelled out by 90° and can be rotated by 330°. The LED wall lamp Fuse can be mounted vertically or horizontally. The switch with which the light is equipped is particularly practical. It has been installed in such a way that it is activated as soon as the light is folded onto the wall bracket, so that the light then switches off automatically. Questions & Answers
(0)
Be the first to ask a question
Customer Reviews
(1)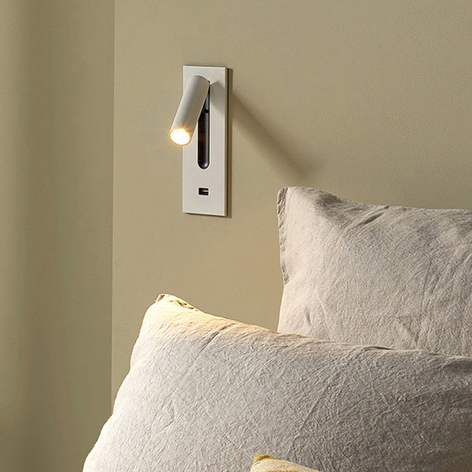 Astro Fuse LED USB LED recessed wall light
Not sure where this suits.
This little light has one design feature that didn't work for me. It h...
This little light has one design feature that didn't work for me. It has a switch behind the cylindrical section that means the light only comes on when pulled away from the body. This means you can't leave it in the same position overnight. I tried wiring it it's own on/off switch but there's no way to do that without also switching off the USB.

And it's bulky — makes a huge hole in the wall.
No, I cannot recommend this product.
Show review
Hello,

thank you for sharing your opinion about the product.

We sincerely apologies that the purchased light did not meet your expectations. We will pass the information to the manufacture as we want to provide our customers with good quality only. To find out if a replacement or a refund is possible, please contact our customer service.